Eight Inch Snake Back Metal Gecko - Caribbean Craft
$23.99 In Stock
HMDBG99_535032
This multicolored bright gecko is hand-cut in Haiti from recycled oil drums! Each art piece has a small hook to hang, indoors or out, and is painted with a snack back colorful design inspired by their local Haitian culture and crafts. The gecko is 8 inches long from top to tail. Brighten any space and add some fun with this handcrafted Fair Trade upcycled art piece. 
Meet the Artisans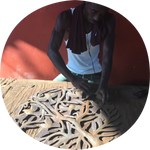 Founded in 1990 by a multinational group of young entrepreneurs, Caribbean Craft promotes employment in Haiti by training unskilled craftspeople, and by assisting the independent artisans through the introduction of new designs and new market outlets for painted Haitian metal art.
Caribbean Craft's specialty is the brightly colored, artistically hand-painted Haitian metal art wall hangings. These hand-painted Haitian metal art pieces are truly works of art. Wall art designs include painted metal geckos, painted metal dragonflies and painted metal frogs.